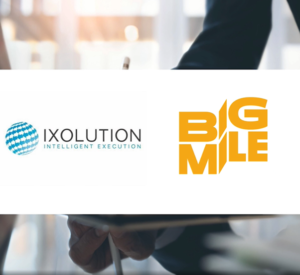 There is an increasing focus on the environmental impact of our economic activities, and in particular on transport. That is why IXOLUTION and BigMile have entered into a partnership!
.
BigMile offers knowledge and services for calculating CO2 emissions. IXOLUTION integrates CO2 calculations via BigMile in IXSuite. Transport information is supplied from IXSuite to BigMile via IXConnect, which in turn makes the CO2 calculation. The result of this calculation is then sent back to IXSuite. This allows our customers to provide CO2 reporting to their customers or governments.
.
In the future it will also be possible to compare intermodal routes with routes by road, in order to be able to report CO2 savings. In addition, it will be possible to have pre- and post-calculation calculations of CO2 carried out via BigMile.