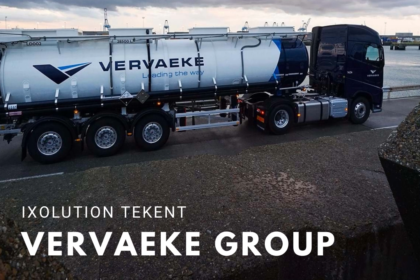 Last Monday, Frédéric Derumeaux, CEO of the VERVAEKE Group, signed the contract together with Ton Stuit and Kornee Sterrenburg for the implementation of the TMS system IXSuite. We can now officially add Vervaeke Group to our customer base!
Vervaeke is a transport company, with branches in the Benelux, France and Germany, and is specialized in bulk transport of chemical products, fuels and gases. They have been around for 85 years and now have 13 locations, 1000 tankers and 750 tank containers. They will be using the IXTransportOperator Liquid & Bulk module and the IXWeb customer service module.
We welcome Vervaeke Group and look forward to a sustainable partnership!
#IXOLUTION #Vervaeke #transport #logistics #TMS