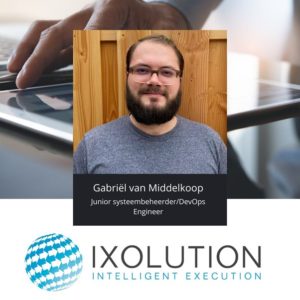 Hello all,
.
My name is Gabriël van Middelkoop, since November 1st I have been working with great pleasure at IXOLUTION as a Junior system administrator / DevOps Engineer. I am 27 years old, now I have been happy with my girlfriend for 9 years and we live together in Papendrecht. We also have three parrots accompanying us, one Agapornis fischeri lutino and two Caiques, a "Zwartkop Caique" and a "Roestkop Caique".
.
I have been working in IT for 6 years and have now obtained my diploma "System management and network management employee". I am currently studying "HBO Informatica(B)" part-time.
.
I will enjoy using my knowledge to contribute improvements to IXOLUTION as well as myself and to learn a lot from my new colleagues.