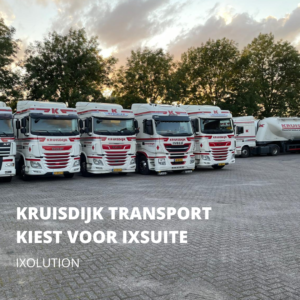 Kruisdijk Transport in Zwolle will use the IXOLUTION application for its Bulk transport.
.
Due to the SME Best Practice concept, the broad functionalities are now also available to companies in the SME segment through a streamlined design and implementation approach. The IXSuite software, which is known for many years as a "standard in the sector" is now also operationally and financially interesting for companies with a smaller fleet.
.
After Kruisdijk carried out a broad market orientation, the extensive and well-arranged functionalities of IXSuite were decisive. Kruisdijk's customers set the same requirements for information sharing as they do for large logistics service providers. Kruisdijk therefore also includes an application with the right depth so that they too can continue to serve their customers with high-quality information.
.
In addition to the TMS, the Trimble on-board computer roll-out will also be started. Part of this implementation is the time registration, the communication of assignments, and specific address information that is shared with the drivers in real-time.
.
We wish Kruisdijk Transport all the best with our IXSuite solution!