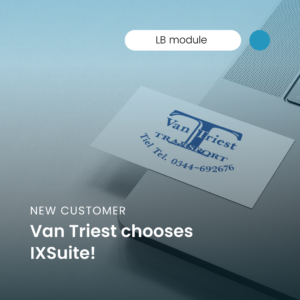 Johan van Triest, director of Weihandel and Transportbedrijf van Triest in Tiel, has signed the contract with Ton Stuit for the implementation of our TMS system, IXSuite.

The company Van Triest started in collecting milk cans with the trade in animal feed. The company has since grown into a publication and international transport company that achieved high-quality tank transport in Food and Feed.

Our IXTransportOperator (LB) module fits in seamlessly with this and offers opportunities for further development in the future.

We welcome Van Triest Transport B.V. and look forward to a lasting partnership!