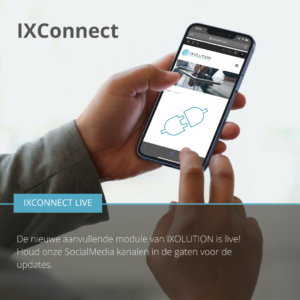 IXConnect stelt u in staat om m.b.v. Webservices (API's) data in IXSuite te manipuleren vanuit andere systemen en vice versa, maar ook is het mogelijk om IXSuite functionaliteiten direct aan te roepen.
Waar er bij de klassieke manier van communiceren eerst diverse stappen moeten worden genomen voordat data kan worden verstuurd of ontvangen, staan de API's toe om dit direct te verzorgen. Dit versnelt aanzienlijk de tijd benodigd tussen vraag en response.
Daarnaast is dit een ideale manier om data te updaten (synchroniseren) vanuit derden systemen die met IXSuite communiceren.  Een voorbeeld is een ERP systeem waarin het gehele klantenbestand is opgeslagen, welke middels IXConnect automatisch het klantenbestand in IXSuite up-to-date houdt. Iedere mutatie in het ERP op het klantenbestand wordt direct geupdate in IXSuite. Zo behoudt u een single point of entry van data en zijn de nieuwe gegevens direct beschikbaar in andere systemen.
Voor meer informatie en/of vragen, kunt u contact met ons opnemen!